A Christmas Message From Derek the Cleric
Updated 8:46AM, Monday December 24th, 2012 by The Editor, Christian.co.uk
Be the first to comment!
Dear Friends

With Christmas all but upon us this season is rather overshadowed by the looming spectre of an unfortunate incident which occurred at last year's ever-popular 'Carols at St.Cliff's'.
It is no secret that I am rather partial to a seasonal mince pie (or two) but this festive indulgence has the embarrassing downside of rogue currants lodging themselves surreptitiously in my teeth. Had I but known that one of our number, (young Albert Hall - no relation) suffered from a debilitating fear of dentists (having had more than his fair share of dental extractions in his short life) I would have shown a little more more restraint with regard to my cheery demeanour as I welcomed folk to the service.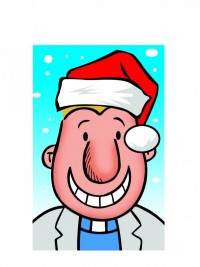 Greeting him (and his parents) on their arrival at this festive fixture with a toothy grin, my currant-encrusted molars unfortunately gave my visage the appearance of numerous missing teeth and thus triggered one of his 'episodes'. If it had not been for the speedy intervention of a member of our prayer ministry team (and the inventive use of the offering bag in the services of quelling his hyperventilation) who knows what would have
happened.

Having resolved that this year I would 'lay off' the mince pies to avoid a repeat of this calamity, on taking a short cut through St. Cliff's kitchen (and in a moment of forgetfulness) I secreted into my mouth an abandoned broken morsel of mince pie that lay invitingly on the worktop and then I entered the sanctuary ready for this year's carol fest.

I will confess to not being particularly one for 'bells and smells' when it comes to my churchmanship but when visiting a certain Christian resources exhibition earlier in the year I simply could not resist the purchase of some seasonal 'Figgy Pudding and Brandy Butter Incense - minimum five services guaranteed!'

My plan was to waft this festive fragrance around at the outset of the carol service thus creating a suitably Christmassy ambience. Perhaps it would have been wise to have done a dry run beforehand but hindsight was not on the menu that particular day. I had not quite realised was that there is somewhat of an art to swinging an incense burner but once the smoking receptacle had built up some momentum it was trickier than I thought to dictate both its velocity or for that matter its trajectory.

I fear that had it not been for the late entrance of Mr and Mrs Hall (and their aforementioned son) the smoking burner might have taken off in the manner of a hammer thrower going for gold.

That this did not occur was due in its entirety to these latecomers attempting to slink unnoticed into the vacant front row pews at precisely the moment the maverick incense burner chose to swing back in their direction.

Those of you who have attended one of St.Cliff's occasional Bowling 'n' Burger excursions will be well aware that I rarely achieve the acme of a 'strike' and on this occasion too I proved true to my reputation. Having floored but two of the three Hall family (like pins in a bowling alley) I was at a loss as to what to do next and thus resorted to smiling pastorally at their almost orphaned son.

You will not need to blessed with the gift of prophecy to see where this is going. Faced once more with my currant-cursed grin the poor lad keeled over and joined his poleaxed parents on our stony floor. Such a good 'hit rate' for falling to the floor would have been most impressive had it been the fruit of our prayer ministry team, but sadly it was not.

Whilst my mind worked overtime with unhelpful thoughts of litigation, Mrs.Higginbottom, (St.Cliff's erratic and cacophonous organist), took it upon herself to strike up a festive tune to divert attention away from the 'incident'.

That her choice of festive melody was 'Deck the halls' did little to help matters.

Let us hope that 2013 begins better than this year has ended.

Onward and upward

Derek

You can find plenty more from Derek the Cleric at Derekthecleric.com

THE EDITOR
This article was written and published by
The Editor
for Christian.co.uk
Leave A Comment or join the discussion
What's Hot This Week?
Our What's Hot feed is updated hourly.
Find us on Facebook
Social Recommendations
SUBSCRIBE FOR UPDATES
Subscribe via e-mail to receive the latest updates on Christian.co.uk!