Worship music: Why should we sing?
Updated 13:30PM, Thursday April 12th, 2012 by Sam Hailes, Christian.co.uk
Be the first to comment!
Singing has been a part of Christianity ever since the beginning. Today, singing remains a part of almost every church in the world. It has become such a major part of Church life that Christians often take it for granted.

In the book of Acts we are told Paul and Silas were singing hymns to God. It's such a central aspect to the Judeo/Christian tradition that God apparently ordained that the largest book of the Bible would be a songbook (Psalms has more chapters than any other book in the Bible). One evangelical pastor once explained how strange this can seem to those not used to Church by recalling a church vistor's words: "I liked the service, but the karaoke bit at the beginning was a bit weird".
When families get together or people have meetings at work, it isn't usually preluded with a time of people singing words off a page or screen, backed by a piano, organ, guitar or full band. So why do Christians do it?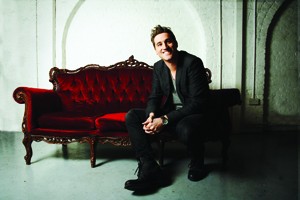 Tim Hughes recently appeared on BBC Radio Wales and was asked by a puzzled interviewer why singing songs in church was so important.
"Worship is much more than singing songs and music," the worship leader replied.
"It's about our response to a God who first loved us. He wants to bring out the best in people and when we as Christians choose to follow him, that begins to make a difference in society."
Believing singing to be just the beginning of worship, Tim explained that by singing, Christians catch God's vision for others. "We're loved by God so we can go and do likewise."
"Those who are in prison, we visit them, those who have no money, we share our money with, those who are orphans, we bring them into our homes."
While many denominations and Christian groups have been serving the poor for centuries, some of the Church has been playing catch-up. It could be argued that much of the modern worship movement has taken its time in asking the question: "Is singing enough?"
"We should be fighting injustice more passionately than anyone else because we worship a God of justice and I believe as we look to God, God changes us to give us a greater passion for justice. In our songs we need to reflect something of that. I'd like to see more songs communicating that," Tim says.
While the connection between worship and justice has been explored by many authors and worship leaders in recent years, the fact remains that every Sunday millions of people will spend considerable time singing songs.
'Sing to the Lord'
copyright kelsey_lovefusionphoto creative commons
Worship Pastor at St George's Church, Leeds Chris Sayburn has been doing some thinking on this topic.
"The Bible is full of music and song from the beginning right to the very end," Chris explains.
"There are around 500 references, depending on translation, about singing and 50 of them are direct commands to 'sing to the Lord'."
Chris also believes songs can help remind us of Biblical truth. "Just think about annoying jingles and songs that do your head in but you know all the words and can't help but sing along."
"Well God was on to this well before any music producer…We read in Deuteronomy 31 that before the Israelites entered the promised land God gave Moses a song to write down and teach it to them (v19) so that they and their descendants would remember God's commands when they turned away and worshipped foreign idols and gods."
He also lists music's emotive effect, the power of worship and its eternal significance as reasons to sing to God.
Worship in the charts?
But could worship music also be used as a tool for spreading the Christian message across the airwaves? There has been a recent push to get Christian music into the UK charts. It began in February 2010 with a Facebook group that encouraged everyone to download Delirious' song History Maker to make it 'Easter number one'. The song peaked at number four and the campaign sparked a number of spin offs.
Despite helping to produce many of the songs we sing in church every week, Trevor Michael from 7 Core Music isn't interested in getting Christian music into the charts.
"I don't know if it makes a big difference because it gets in the charts one week then goes out again. So what? Did anyone really pay any attention to it. Is our job to get worship music into the charts? I don't think it is. I think worship music is for us, the church."
Adrian Thompson, A&R Manager at Kingsway Music has a different view. "I am not against these campaigns but there has to be a more realistic and sustainable approach if we are to see Christian musicians taken as credible in media circles and not a one week wonder."
"I look forward to the day when a Christian artist can chart for longer than a week on a credible basis and then gain some form of airplay."
'When the music fades...'
Why do we sing? It seems there are many good answers. It's Biblical, it inspires, and it allows communication with God. In the words of St Augustine, "When one sings one prays twice".
Mike Pilivachi's experience makes for interesting reading. Soul Survivor, Mike's growing youth movement that today attracts 28,000 a year was flourishing. Speaking about the worship times, Mike recalls: "On the surface everything was just fine… Yet, we seemed to have lost the spark…One day it clicked; we had become connoisseurs of worship instead of participants of it."
The danger Mike describes exists whatever style of music is used to accompany worship. Mike said the team at Soul Survivor learned their lesson and stopped focussing on the songs and turned their attention to God. Not long afterwards, Soul Survivor worship leader Matt Redman penned the following famous words in his well known and much loved song Heart of Worship: "I'll bring you more than a song, for a song in itself is not what you have required".
Part one: 'Worship music: What should we sing?'
Part two: 'Worship music: How should we sing?'
Part four: 'Worship music: What does the future hold?'

SAM HAILES
Writer, Christian.co.uk
Sam writes news, features and reviews exclusively for Christian.co.uk. The job involves meeting influential and interesting Christians from across the country and beyond. Most importantly, he never talks about himself in the third person.
This article was written and published by
Sam Hailes
for Christian.co.uk
Leave A Comment or join the discussion
What's Hot This Week?
Our What's Hot feed is updated hourly.
Find us on Facebook
Social Recommendations
SUBSCRIBE FOR UPDATES
Subscribe via e-mail to receive the latest updates on Christian.co.uk!