Introducing: Jon Birch from ASBO Jesus
Updated 7:10AM, Monday April 2nd, 2012 by Sam Hailes, Christian.co.uk
1 comment
Jon Birch, the man behind the successful ASBO Jesus cartoon blog talks about his inspiration and the discussion and debate they often provoke.
Jon Birch
Where did you get the idea from?
The idea for the name was my wife's idea. My Mum died and I needed something to take my mind off things and I thought what better way than to do some cartoons.
I started this blog and suddenly people started to come and have a look and commenting. I started commented back and before I knew it, there was lots of conversation taking place.
What's the purpose of the cartoons?
The cartoons are conversation starters, they're things that I put forward to start a debate. I don't go at the cartoons saying I'm right or I'm wrong. I put up a cartoon and see what other people think. Sometimes I feel stronger about an issue than other times. I tend to be quite steely about issues of justice for example. Cartoons always offend someone. It's very hard to say something and not upset somebody.
It's surprising the amount of intelligent debate the cartoons have provoked.
That's the strange thing. I think the conversations are often much better than the cartoons.
How many people look at the site?
About 2000 people a day, if I've posted a cartoon. I really wasn't expecting people to look at the blog to begin with. There's a lot of people who come and make conversation and a lot of people I've got to know through the site.
How do you decide what topics to cover?
I pick subjects that are of interest to me. Often things that I need to get off my chest or things that need saying.
Once someone got in touch with me and asked if I'd do a cartoon on self harming. I worried about that for ages because I didn't want it to be destructive. A lot of people know someone who is dealing with that issue and you don't want to upset people. I swallowed hard and put them up, and they had a magnificent response.
Do you worry you'll run out of ideas?
No, life is full of ideas. You can be in danger of getting stuck on a bugbear, and I try not to do that. Things may seem quiet for a while and then St Paul's happen and people are camping in tents. The world is full of things that provoke thoughts and comments.
What other blogs do you look at?
I look at Dave Walker's cartoons. It's different from what I do. Less critical or satirical, but I really like his work. My favourite guy online is Naked Pastor, who is a Canadian guy. His cartoons are crazy, they are really simple black and white things but they are wonderful and he's always making good points.
When you're not making cartoons what do you do?
Most of my work is animating. I've also been a music producer so I tend to do a little bit of all sorts. I do a lot of work for Scripture Union online and that keeps me out of mischief most of the time.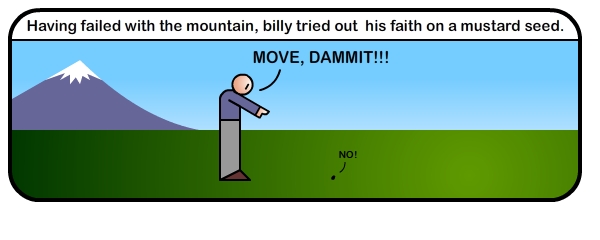 SAM HAILES
Writer, Christian.co.uk
Sam writes news, features and reviews exclusively for Christian.co.uk. The job involves meeting influential and interesting Christians from across the country and beyond. Most importantly, he never talks about himself in the third person.
This article was written and published by
Sam Hailes
for Christian.co.uk
Leave A Comment or join the discussion
Sabio Lantz
said...
This was a great introduction, thank you. Last night, coming from Naked Pastor's site, was my first to Jon's fine cartoons! Great fun. I wonder if Jon has ever done a YouTube or blog description on how he makes his cartoons -- I would love to watch that on YouTube!!
Article Series
This article is part of a series. Other articles in this series are available below:
3. Introducing: Jon Birch from ASBO Jesus
What's Hot This Week?
Our What's Hot feed is updated hourly.
Find us on Facebook
Social Recommendations
SUBSCRIBE FOR UPDATES
Subscribe via e-mail to receive the latest updates on Christian.co.uk!