Introducing: Stomptown Revival
Updated 9:57AM, Monday October 29th, 2012 by Sam Hailes, Christian.co.uk
Be the first to comment!
Stomptown Revival's name aptly describes their music. Gospel, blues and American roots songs are the order of the day on their debut self titled EP.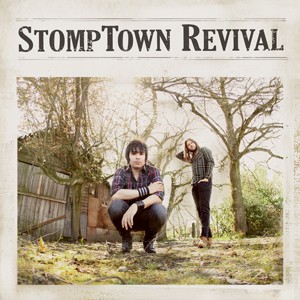 Made up of two men who are no strangers to Christian music, the duo have experience in production, live performance and studio recording.
Friends for almost 10 years, Brandon Bee and Gabe Martinez never planned to release an album together.
"We were getting together about a year ago for our own projects and ended up writing music that didn't make any sense for either of us. We didn't even think about releasing anything, it was just writing music because we loved it," Brandon explains.
A Surprise Hit
When the two guitarists and singers finally decided to press the all-important record button, they weren't convinced many people outside of their immediate friends and family would enjoy the EP.
"The fact it's getting some nice responses is actually very shocking to both of us. We're pleasantly surprised that something like this is being widely accepted," Gabe explains.
With no radio backing or grand marketing strategy, the duo admitted to getting a kick out of seeing their EP, 'Stomptown Revival', hit the top 10 in the US iTunes chart.
"You go to bed thinking that was fun. Then we'd wake up and the next day we were still in the charts. It's insane man!..."
"...We are enjoying it and hoping people are being blessed by it and encouraged and maybe hearing some of the stories in the lyrics and being pointed back to Christ. If that's happening then we're happy."
Christian Folk Revival
Their folk-like sound means Stomptown Revival are inevitably compared with Mumford and Sons. Brandon even describes such comparisons as "the elephant in the room".
"There's a lot of that music going round. Even the lead singer of Mumford and Sons grew up on gospel hymns and was a Christian. I don't know if he still is but he grew up on the same stuff. Even a lot of the Lumineers grew up in church. Civil Wars, obviously Joy Williams was a Christian artist. All that to say I think we're all stumbling across it on our own."
It's a fascinating concept that so many people exploring older styles of music also have a Christian faith. Whether it's Rend Collective Experiment in Ireland or Stomptown Revival in America, Christians appear to be leading the way in rediscovering old sounds.
For Stomptown, these old sounds are inspired by the likes of Johnny Cash, Willie Nelson and Robert Johnson. This inspiration is demonstrated in everything from the gospel influenced lyrics to the very instruments they play.
Stompbox
The stompbox is described by the duo as a speaker glued inside of a box which acts like a kick drum for both the recording and live performances. The big bassy sound is a hallmark of the band's sound. As well as this stompbox influencing the band's name, the concepts of mission and 'heart songs' has also had a profound effect.
"Gabe and I both have done a lot of travelling around the world. I do a lot of mission, he's done a lot of mission. Gabe has smuggled bibles and other stuff. Whenever I'm going to other countries, especially Italy where I've been the most of all countries, I've noticed that when it comes to music they don't have their own heart songs. They incorporate a lot of American songs, that's what they are using as their songbook."
"Gabe saw the need for Italians to write their own brand of worship music with their own heart and language. When I came home from one of those trips, I was really challenged by that. Everything I was playing was influenced by you guys in the UK!
"U2, Coldplay, Radiohead and all this great music that I loved. But what's my heart song and what is America's heart song?"
"So we created this new sound called Stomptown which is our version of old country hick-town music. We are going to be the revival band of that town."
'No Radio Would Play This'
Brandon is clear that the genre of music the duo have created was not part of any kind of plan.
"What we're doing is creating music that means a lot to us. They are urban hymns. They are worship songs even though they are not in the form of contemporary worship songs. We are seeing a revival of people wanting to hear this right now. We didn't force the music and no radio would play this. It's not like we even tried we just knew it wasn't going to happen! But people are digging that stuff now."
"If I look at reviews on iTunes, they talk a lot about the spiritual journey they go through when they listen to this music. All we're trying to do is paint a fresh picture of what the Bible already says."
To read on, visit our Album Review to see what I through of Stomptown's EP.


SAM HAILES
Writer, Christian.co.uk
Sam writes news, features and reviews exclusively for Christian.co.uk. The job involves meeting influential and interesting Christians from across the country and beyond. Most importantly, he never talks about himself in the third person.
This article was written and published by
Sam Hailes
for Christian.co.uk
Leave A Comment or join the discussion
What's Hot This Week?
Our What's Hot feed is updated hourly.
Find us on Facebook
Social Recommendations
SUBSCRIBE FOR UPDATES
Subscribe via e-mail to receive the latest updates on Christian.co.uk!